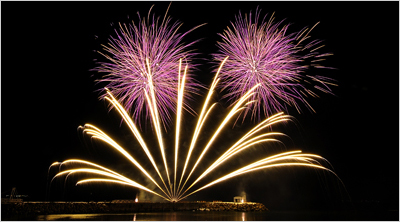 FAE Pyrotechnics, a Sherbrooke firm, was founded in 1985. Our designers have received numerous awards and honours for having taken part in special events and major international fireworks competitions. Year after year, the interior and exterior pyromusical shows designed by the firm exceed the imagination of spectators as well as aficionados.

Summer or winter, the pyrotechnicians at FAE Pyrotechnics create fireworks displays that are innovative, varied and tailored to the themes of a variety of events such as the Rendez-vous Loto-Québec, national and local holidays, parties and festivals, sporting events and other major pyrotechnics events in Quebec and elsewhere. By working closely with the organizing committees, FAE Pyrotechnics makes it a point of pride to decorate the sky with the colours of the party and the surroundings.
Focusing on the artistic quality of the configuration in accordance with the theme and character, FAE Pyrotechnics relies on firing equipment that is at the leading edge of technology so as to synchronize the fireworks and the music. The designers of the firm take advantage of the latest design methods, thus giving free rein to their limitless imagination.

Having large storage facilities, FAE Pyrotechnics is also a supplier and distributor, able to offer its clientele high quality pyrotechnics effects that are unusual and innovative. Thanks to a showroom stocked with the most extensive selection of fireworks in Estrie, families from all four corners of the region benefit from expert advice regarding the safety and installation of their shows.
© FAE Pyrotechnie 2016. All rights reserved.